Tell me again how this isn't a misogynistic violent rape culture…
***BIG TRIGGER WARNING*** Below are comments that random men made about what they'd like to do to the woman in the photo. It includes rape, gang rape, violence, extreme sex acts, etc, some graphically described. There are also references to the Delhi gang rape. There are also sexist/racist/islamophobic images contained below.
There's usually bad stuff posted here but this is worse than usual I think. There's many more gross comments on the original facebook post but these were they ones that jumped out at me. I started highlighting some in red but really the degrees of awfulness here are quite blurred. Apologies for the long post & thanks to the person who submitted the link.
Particularly horrifying are the comments by Ricky Torres/Ricardo Torres, Musa Ozkan, Awais Irfan, and Joseph Sapio.
Brody Griffey - Works at Canadian Forces, studies at the Royal Military College of Canada Kingston, Ontario

Dallas Leitz of Colorado Springs USA, goes/went to Air Academy High School.
Sami Jacobsson of Köping, Sweden. Works at Volvo Powertrain AB.
Liam Collins who goes to Townsville Grammar School in Queensland, Australia.

Kurtis Barr from Ballymena, Northern Ireland.
Soon Seng Yong who lives in Singapore and studied at Singapore Polytechnic.
This is another photo of him from his facebook:
Interestingly is in a video about hate groups! fancy that. http://cronkitenewsonline.com/2011/02/study-number-of-active-hate-groups-in-the-u-s-at-all-time-high/ (note - i haven't watched this so unsure of its exact content, this post has about destroyed my will to live).

Viplove Sangwan who went to Waiariki Institute of Technologyin Roturua, New Zealand.
Rohan Kenrick who went to Greensborough College in Melbourne, Australia.
Ricky Torres/Ricardo Torres - living in or near South Alamo/Alamo, Texas USA
Graduated Donna High School in Donna, Texas, in June 2012.
Also posted this on his profile:
and this:
and this:
Keegan Bowes 
Anthony Louis Serna of San Clemente California, USA who works at Diamond Fire Glass.
Awais Irfan of Pakistan.Unfortunately I can't see more info than that on his profile.
Tim Ingram of Brisbane Australia (or nearby).
Chris Shylan possibly in Aberdeen, Scotland.
Musa Ozkan who went to Homebush Boys High School in Sydney, Australia and now studies at Tafe NSW Granville College. Perhaps drop them a message about this comment?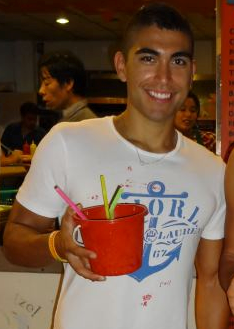 David Philip from Aberdeen, Scotland but living in Los Angeles, USA

Aidan Everson 
Theo Mullan from Waihi/Ashburton New Zealand
Joseph Sapio of Sydney, Australia